Meetings. The cornerstone of 'collectively getting stuff done' in business.
You gather as a team, whip through all the stuff that's important, feel great about the work you're all doing, and come out feeling energized and inspired!
What's that? Your meetings don't look like this!?
Oh, are your meetings more often…
A confirmation that no one really knows what they're supposed to be doing
A source of more conflict and confusion than you started with
Deathly boring events that sap your energy and motivation
A barrier to actually getting the work done
Don't worry, you're probably having the same experience as 99% of people in business – that meetings suck!
Good news! There are some easy steps you can take to overcome difficult meetings
Having conscious and effective meetings is really important! Not only because it's going to feel like less of a pain in the ass, but because it means…
Your meetings make powerful progress for the whole organisation
You get energy and motivation from meetings, rather than have it taken away
You create a culture of team-work and collaboration
You get a sense of clarity and relaxation, knowing that all the bases are covered
Sound good? Awesome. How to do that is exactly what we've drawn up for you here.
We've been practicing these approaches and teaching them to businesses for several years now, and so you can trust us when we say—they work!
Now of course, these are some pretty complex problems that can have a whole host of underlying issues. So the solutions we're proposing aren't the only ones, but…they are effective ones.
If you can follow even half these steps you'll see a huge change in the effectiveness of your meetings (while having a bit more fun, and a feeling lot less anguish).
OK, onto the most typical problems in meetings.
Problem #1 – Why on Earth Am I Even Here!?
You know you're beset by this problem when you arrive at a meeting and think to yourself something like…
"What am I doing here? Well, I guess because I found this meeting in my calendar, but I have no clue what we're supposed to talk about."
This is like the problem of people randomly carbon-copying (CC'ing) everyone and his brother into emails. Only worse.
Because these random-type meetings actually take away from your valuable time and energy. And then proceed to reliably achieve the outcomes no-one actually wanted in the first place.
Not fun. And a big strain on the larger resources of the organization. Bad news all around. So what's to be done?
What you can do to address this problem
The easiest way to address this problem? Two words: meeting invitation.
If you send a clear and concise invitation, you're probably going to clear up this problem pretty fast. So how do you do it?
Make sure you send a very clear and explicit invitation at least a few days in advance. What do you want to include? At least the following…
Title – make this as accurate and descriptive as you can – this is what's going to show up in people's calendars!
Purpose – what's the goal of the meeting?
Trigger – why is this meeting important today or this week? (Even — or especially — if it is a recurring meeting.)
Outcome – what would we need to achieve for this meeting to be a success?
Invitees – who needs to be there? (And if it's not totally clear already, include your assumption for why they should be there!)
Practicalities – when and where is it, and how long will it last?
Preparation – are there any specific actions that people need to take before the meeting? (Or stuff to bring with them)
Sending an invitation that includes this information is going to have one very big effect.
It's going to create very clear distinctions between what the meeting is and isn't about, and what is included and not included.
It helps everyone get on the same page, before you even walk into the room, and allows everyone to make an informed assessment about whether they actually need to be there, or whether they just got casually CC'd on the email.
Problem #2 – Is this a Meeting or a Water-cooler Chat!?
The feeling of total bewilderment…was that a meeting!? You know you're a victim of this problem when you experience something like…
"We more or less stumble into, through, and out of the meeting without anyone ever making a clear and conscious choice about what we're talking about, what we're trying to accomplish, and when we're done."
Ouch. What a mess. And, unfortunately, a mess that is endemic in business meetings.
If you have a lot of meetings like this it probably feels like a big waste of time, leaving you feeling frustrated and out of control. Which of course does wonders for your motivation!
How do you get out of this mess!?
What you can do to address this problem
The problem here is boundaries. No one is sure what's going on or when the meeting has succeeded (i.e. finished).
So the key here is clearly and consistently demarcating the beginning, middle, and end of the meeting, so you know where you are, and why.
The simplest way of solving this is using what are known as "check-ins" and "check-outs". So how do you do this?
Clearly mark the start of the meeting – this could be the meeting organiser summarizing the purpose and agenda, or it could be as simple as hitting a bell or playing your favorite motivational meeting tune!
Check-in – everyone briefly (!) shares how they're showing up in the moment, and what they'd like to mention or let go of so they can be fully present. No reactions or discussion, just one by one. There's something about hearing everyone's voice to really open the conversation space, and you may get some relevant information like someone feeling stressed out or suffering from a headache.
Have the meeting – there are a variety of specific middle parts you can add to the structure, which we'll cover later, but for now, think of this as the meat in the sandwich
Check-out – give everyone another minute to share their personal experience of the meeting, and how it was for them. Again, no discussion, just individual space to talk. If you want, you can ask people what went well and what didn't go as well, so you can get immediate feedback on your meeting!
Clearly mark the end of the meeting – again, this could be something like a bell, or a verbal closing: "thanks everyone, the meeting is now done, see you next time." Getting up is another great way to physically and energetically close the meeting. Don't hang around talking, since that starts to blur the line between being in and out of the meeting again.
This may sound simple, but having a clear beginning and end, and giving everyone the opportunity to check-in and check-out often has a remarkable effect on this kind of problem.
And the more you get into a habit of doing this, the more everyone is going to start facilitating clear boundaries themselves, which creates a really clear and efficient culture, inside and outside of meetings. Good news!
Problem #3 – Death by Discussion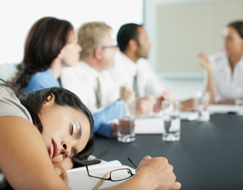 There's nothing worse than being in a meeting and dying a slow and painful death from endless discussion. You know the score…
"All we do is talk, the meeting is just this huge discussion where everyone shares their opinion, and nothing moves forward!"
Are we here to get stuff done, or are we here to have a nice chat and share our feelings and perspectives?
Our friend from HolacracyOne Tom Thomison makes a great point: "Most companies die of indigestion, not starvation." And endless discussions are definitely a symptom of organization indigestion!
Trying to constantly make group decisions is going to slow you down to a crawling pace, which can be pretty frustrating. So what's the answer?
What you can do to address this problem
There are two main things you can do to avoid this problem. The first one is pretty straightforward. The second takes some more effort.
Get shared understanding on the intended outcome – maybe the meeting actually needs a loose and unstructured discussion. Or maybe it needs a really tight structure to address specific issues. Get clear on the intended outcome and you avoid muddled expectations, and get everyone on the same page so they can show up fully and powerfully.
Avoid consensus hunting – unless you have clear and defined roles and authority you're not going to know who 'owns' a particular chunk of work, and so you're going to try and get group consensus on every issue. Which is a sure-fire way to create endless discussion and organization indigestion! So make sure you know who is leading and "accountable" for a specific project or task area, and you can avoid this. Preferably do this outside of the meeting, but if you don't have that kind of clarity, have a roles meeting. Whatever you do, don't combine a meeting about roles and authority with one on operational issues – you'll get neither done well!
If you put these two solutions in place you're going to give your organisational stomach some much needed digestion aids, and get everyone pulling in the same direction.
201 responses to "6 Typical Problems with Meetings and What To Do About Them (Part 1)"