If you missed part 1 of this blog, you can find it here (probably best to start there if you just stumbled across this article).
OK, onto the final 3 tropical meeting problems…
Problem #4 – Arguing over the Agenda
Time is probably precious to you – you don't have enough of it. So when this happens to you, it probably frustrates the hell out of you…
"We come into the meeting with lots of important things to resolve, but just agreeing on what's on the agenda, and in what order we address them takes half the actual meeting!"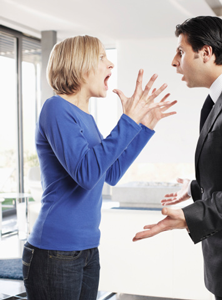 There are a couple of reasons why this problem occurs in meetings.
A common one is that when you start trying to agree on the agenda, this happens… Someone brings up an agenda point, and then immediately starts discussing it. You may think that's the obvious and efficient way to go about it. It's not! Not only annoying, but horribly inefficient.
The second reason is probably even more problematic. If you don't have a reliable habit of getting through all your agenda points in the meeting, then there's going to be some serious political jostling from people to get their items high up the list.
The result? Building the agenda becomes an exercise in 'who has the most outspoken ego'. Fun. So how do you work with this?
What you can do to address this problem
Simple (but not always easy). You put in place a very rigorous agenda building process. here's the best one we know.
Don't build the agenda in advance – this guarantees everything on there is current and relevant. Yes, this can be scary! But it doesn't mean you can't think about agenda items in advance, or don't prepare. It just means build the agenda on the spot.
Go point by point – move around the circle and one by one offer points to add to the agenda. Whatever you do, don't start explaining the points or discussing them, just compile a list of labels. So long as the person bringing in the point knows what it means, it's fine. You're finished when no-one has any more points. If someone wants to talk about sales, and someone else wants to talk about sales, too, list it twice. They may be very different points, requiring a different decision or action.
Agree to get through all of them – and set a time limit to do so. If you do this, then it immediately resolves the issue of political manoeuvring around certain topics, since everyone knows everything gets covered.
Simple. If building the actual agenda takes more than 2 or 3 minutes then you're probably doing something wrong. Still find it hard to get through all the points on the agenda? Never fear, that's up next…
Problem #5 – Meaningless Meeting Minutes
There's nothing that's going to shine a brighter light on the effectiveness of your meetings than what happens afterwards with the minutes. Ever have this experience?…
"We come out of the meeting with 10 pages of minutes that get emailed around, but no-one looks at them and nothing gets followed up on."
Maybe you agree on what 'we' need to do on a particular item, but then nothing gets done. Maybe you never even get to solutions, and manifest problem #4.
Whatever the cause, it's a frustrating thing to spend time meeting with people to resolve things, but find the following week that nothing's been done to move things forward.
In a way, this says more about the cultural habits outside a meeting than in it, but it also identifies a key component of good meeting practice: clarifying and capturing next-actions.
What you can do to address this problem
There are really effective ways to use next-actions, and there are inept ways. Here's a process that should banish meaningless meeting minutes forever!
One item at a time – don't ever mix up or combine agenda items. Go through them in order, one by one, and use the person that brought up the agenda point as you're 'sensor' for when you're done.
A brief discussion – you may need to talk about the item to understand what the problem is, or you may not. But either way as soon as responsibly possible move on and…
Ask 'what do you need' – you can discuss problems for near on eternity, but the key is finding the physical next-action to take it forward, and not all the things that would resolve this forever, theoretically. And make sure you're asking the person who brought up the addenda point specifically, and not the entire room (that leads to more discussion).
Start next-actions with a verb – so it's clear what the outcome is, that's measurable. For example "Powerpoint Presentation" is a really bad next action. You may know what it means when you write it down, but in the tumult of busyness you quickly forget. Instead phrase it in a way that is physically measurable, for example "Create and email Powerpoint Presentation on meeting practices to Jeff."
Have one name next to each next action – so that there's no confusion over who is accountable for it. And always have a name!
Do all this and you're making it pretty hard for agreed tasks and actions to fall between the cracks. No more "I thought we agreed to get this done, what happened?".
Problem #6 – Ego Jousting
This one is a real productivity killer and can manifest in all kinds of ways, but you'll probably recognize it as something like…
"It feels like most of us are just here to provide an audience for today's round of political infighting by the same two or three people."
No matter the meeting topic, the same people talk about the same old gripes, and try and ram the same old story down the same old throats.
The result? People start to feel unsafe – fast. It's hard to bring anything in as it's seen as a threat to the jousting competition. So you end up as the invisible schmuck in the corner, never seen and never heard. Great way to feel useful!
The bad news is this one is normally a sign of a pretty dysfunctional organisational culture that has nothing to do with the meeting itself. The good news? There is something you can do to calm the disease.
What you can do to address this problem
Get a meeting facilitator. Not always easy to do, but it's the only real way of addressing this problem without doing major cultural change work. And if you do it, you should see results fast. So, how does it work?
Get agreement from all the meeting participants to use a facilitator – maybe you need to do it on a trial basis at first, but just do what you need to do to get the green light. It could be someone who's already a regular meeting participant, or someone from the outside (less politically loaded).
Agree the process that you want facilitated – keep it simple, for example, the 4 steps of check-in, agenda building, processing agenda items into next-actions and check-out.
Guard the process – the job of the facilitator is not to police people and control them, but to guard the process. Anytime the meeting veers of track, gently bring it back to the topic at hand. It's not personal.
Invite feedback – have the facilitator ask for feedback at the end of the meeting. What worked, what didn't, how did they feel about having it facilitated in general?
A good facilitator is worth their weight in gold, but even a semi-competent one is probably going to make a big difference to ego jousting. And the more you get in the habit of sticking to the structure with the facilitator's help, the more people will start to facilitate themselves.
These solutions will help you have great meetings
But, don't try them all out at once! Even if you're meetings suck so hard you're desperate to make sweeping changes, our advice would be do it bit by bit.
Because some people can be resistant to change! Try out one or two of these suggestions and see how it goes.
The proof is in the doing, and these solutions do work.
And take a moment to leave a comment below and tell us what happens when you try these solutions out in your meetings!
468 responses to "6 Typical Problems with Meetings and What To Do About Them (Part 2)"